I have changed my workout routine. I am a very driven person, and if allowed to do my own thing, I'll run myself into the ground, lay there for a second, then get up and keep running. That's just how I'm wired. I'm ready to rock and roll all the time, I talk really fast and animated (as you'll see more of with the Vlogging I'll be posting) and I love to run!
When I left weights, I have to be very careful about my form because I favor explosive, dynamic, high intensity training versus slow, steady lifting. Again, this can obviously have a giant downside, and I'm super grateful for my sweet, muscular, weight-lifting husband who watches me and is like "Slow down crazy woman! Enjoy the burn." --He's right, too, when you focus on the muscle your working on (example: bicep curls) and instead of
doing 21's like I favor
, you lift and then oh so slowly release you'll go much farther with less reps.
So, where oh where can I turn to in the fitness world to force myself to slow down and focus on what I'm doing instead of concentrate on burning off my extra energy with running or
calisthetic exercises
?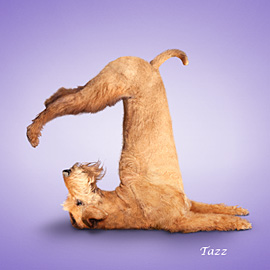 Did you figure it out yet? :p
Yoga, of course! Now I went through everything on wonderful Youtube.com last night looking for a routine that worked for me. I personally can't do a routine if it involves laying still and concentrating on your breath. So, I bookmarked a couple of these for me in the morning, when I need peace of mind the most:
This is Jillian Michael's Yoga Meltdown Level 1:
And here is Sadie Nadini's 20 minute Weight Loss & Fat Burning Routine:
Both of these were fun--especially the part where my cute little 4 year old was trying to do yoga with me last night haha! She likes to make it dangerous. Like crawling under my downward facing dog and popping up, missing my nose by a hair's breadth! I should film that and call it "Ultimate Adrenaline Yoga For Moms!"
So, my new routine, again customizable to my daily level of crazy, is:
Morning: Yoga routine 15-30 mins
Noon-ish: Going on a run (preferably) or a Core Workout (Like Sean Vigue with
Motley Fitness
, he's amaaaazing!)
Afternoon: If I still have energy left to burn, or have to skip my noon routine, I like to do the
Supreme 90 video
s right now. I am ashamed to admit sometimes I curse the day Tom Holland (he's the host) was born in the middle of a routine, but by the end of it I mentally apologize to him because I feel amazing :)
I hope these little glimpses into my world help to inspire you to keep growing and changing and adapting to a healthier, happier lifestyle!!! :)
Lizi